Turn 17
>>Next Turn
Finds Mines
moves to F8, revealing a "4". +1XP
White Metal (
white
) steps over to M8, which is a "2". +1XP
Goska Bluey
puts away the yellow and the red tokens. She jumps to C5, sinking knee deep in.
Bouncing Burt
replaces one of his flags to J5.
Oh See That Shiny
flags E9, and lets out another shrie at the reed. The reed seems to me unmoved by this act. However, Shiny deduces that his shout needs a fellow player on any adjacent tile to take effect.
Flags Mines
flags M6.
No-Legs
crawls over to K6, uncovering a "2". +1XP
Blitz Craig
circles out.
Stumbles around
circles out.
See Four
goes on vacation.
Tries-and-Dies
spawns on O8, finding a "1". +1XP
MAP: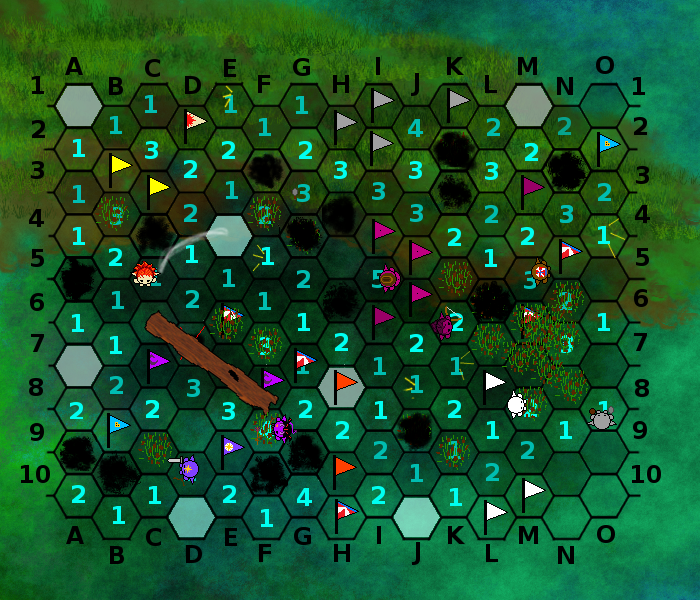 Achievements
Skill Information unlocked
Equipment Information unlocked
.[tabs:Players on the Map (8)]
White Metal (
white
)
Goska Bluey
No-Legs
Finds Mines
Oh See That Shiny
Bouncing Burt
Flags Mines
Tries-and-Dies
[tabs:Players Who Can Spawn (2)]
Step-and-Boom (
yellow
)
Bada Boom
[tabs:Players Waiting (2)]
Blitz Craig
Stumbles around
[tabs: Missing (3)]
See Four
- on vacation
Spawns on Mines
Dies-to-a-Mine
[/tabs]
Character Sheets:
.[tabs:Bada Boom]
Bada Boom
Level 1, XP: 2. Deaths: 3
Active Skills 1/2: spelunky (dodge)
Unused Skills 1/2: Warning
Inventory: 10 / 10 flags
Hammerspace: 1 coin, boots
[tabs:Blitz Craig]
Blitz Craig
Level 0, XP: 6. Deaths: 2
Inventory: 8 / 10 flags
Hammerspace: 0 coins, no equipment
[tabs:Bouncing Burt]
Bouncing Burt
Level 0, XP: 9. Deaths: 4
Active Skills 0/1:
Unused Skills 1/1: Unaligned(+1tile)
Inventory: 7 / 10 flags, fedora
Hammerspace: 0 coins, flute, bag of marbles
[tabs:Dies-to-a-Mine]
Dies-to-a-Mine
Level 0, XP: 5. Deaths: 3
Inventory: 10 / 10 flags
Hammerspace: 0 coins, no equipment
[tabs:Finds Mines]
Finds Mines
Level 1, XP: 10. Deaths: 0
Active Skills 2/2: hero(return), Warning (back at Turn 32)
Unused Skills 0/2:
Inventory: 8 / 10 flags, whip
Hammerspace: 2 coins[/tabs]
.[tabs:Flags Mines]
Flags Mines
Level 1, XP: 13. Deaths: 3
Active Skills 1/2: Call (level 1)
Unused Skills 1/2: spelunky(treasure)
Inventory: 6 / 10 flags
Hammerspace: 0 coins, no equipment
[tabs:Goska Bluey]
Goska Bluey
Level 2, XP: 0. Deaths: 2
Active Skills 3/3: Visions (back at Turn 26), Jump, Rescue
Unused Skills 1/3: evil(push)
Inventory: 9 / 10 flags
Hammerspace: 0 coins, no equipment
[tabs:No-Legs]
No-Legs
Level 1, XP: 13. Deaths: 1
Active Skills 2/2: Warning(back at Turn 27), Jump (level 1)
Unused Skills 0/2:
Inventory: 8 / 10 flags, bow (4 arrows)
Hammerspace: 1 coin, frying pan, Y-stick
[tabs:Oh See That Shiny]
Oh See That Shiny
Level 1, XP: 4. Deaths: 2
Active Skills 1/2: hero(shout)
Unused Skills 1/2: evil(greed)
Inventory: 9 / 10 flags, sword, Y-stick
Hammerspace: 0 coins
[tabs:See Four]
See Four
Level 1, XP: 0. Deaths: 2
Active Skills 0/2:
Unused Skills 0/2: spelunky (run), seer (teleport)
Inventory: 10 / 10 flags
Hammerspace: 0 coins, whip, leather jacket[/tabs]
.[tabs:Spawns on Mines]
Spawns on Mines
Level 0, XP: 2. Deaths: 0
Inventory: 10 / 10 flags
Hammerspace: 0 coins, no equipment
[tabs:Step-and-Boom]
Step-and-Boom (
yellow
) Level 1, XP: 2. Deaths: 4
Active Skills 0/2:
Unused Skills 2/2: spelunky(run), hero (return)
Inventory: 8 / 10 flags
Hammerspace: 2 coins, no equipment
[tabs:Stumbles around]
Stumbles around
Level 1, XP: 9. Deaths: 2
Active Skills 2/2: Rescue, Visions (back at Turn 35)
Unused Skills 0/2:
Inventory: 11 / 13 flags, boots, frying pan
Hammerspace: 6 coins, no equipment
[tabs:Tries-and-Dies]
Tries-and-Dies
Level 1 XP: 4. Deaths: 3
Active Skills 2/2: Call, Jump (level 1)
Unused Skills 0/2:
Inventory: 9 / 13 flags, frying pan, 10ft pole
Hammerspace: 9 coins, whip
[tabs:White Metal]
White Metal (
white
) Level 0, XP: 9. Deaths: 1
Active Skills 1 / 1: unaligned(+1 pow)
Unused Skills 0 / 1:
Inventory: 7 / 10 flags
Hammerspace: 0 coins, no equipment[/tabs]