Welcome the new round of the minesweeping madness!
You can check the previous round
here
.
If you wish, you can glance at the rules, shop, and any other information
here
.
Hexing Swamps
After a brief discussion our brave goblins decided they visit the marshlands for new adventures. It is told to be a difficult place, but surely the rewards must be also great. Well, it's not that anyone told them anything about rewards. Or returned alive from there, for that matter...
MAP RULES:
- 150 hexagonal tiles - 45 mines underneath, labyrinth style (non-mine tiles reachable from anywhere).
- Traps and monsters included.
- Reed and dead tree are map "items".
Special map rule:
- If you step on an already explored tile, you sink a little deeper into the swamp. Stages: knee deep, thigh deep, waist deep. At this point you are rendered inmovable, cannot circle out and keep sinking in: chest deep, neck deep, and dead. Once rendered inmovable you can ask a player on an adjacent tile to pull you out to another adjacent tile to both of you. The depth counter will reset.
Turn 0
>>Next Turn
MAP: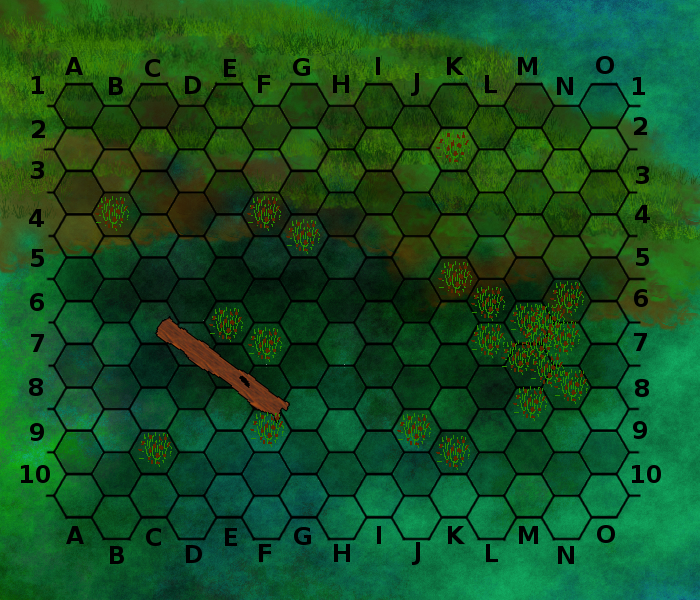 .[tabs:Players on the Map]
Players are about to spawn!
[tabs:Players Who Can Spawn (11)]
Flags Mines
No-Legs
Goska Bluey
Tries-and-Dies
See Four
Step-and-Boom (
yellow
)
Finds Mines
Spawns on Mines
Stumbles around
Dies-to-a-Mine
White Metal (
white
)
[tabs:Players Waiting (4)]
Bada Boom
Blitz Craig
Oh See That Shiny
Bouncing Burt
[/tabs]
Players who have bought stuff already, please confirm your purchases, or this is your last chance to change your shopping list!
Players who haven't bought anything but still have some coins left, this is your last chance to buy items before spawning.
---
Let's get started!